Monday afternoon I walked outside at the church at about 3:20 pm and realized the air felt strange. Hot and cold air swirling and so were the clouds. I went back inside and pulled up the radar. I saw the massive line of storms developing to our west and I saw they were coming in from the south.
Hey folks, when we get weather coming from the south or the north, watch out! That's when we can get straight line winds and yes, tornadoes. Typically we are insulated here in the foothills from these weather phenomena because we're protected by the mountains as the fronts come in from west to east. But, not on Monday. We had a freight train coming from the south.
I got on Facebook and said:
Strong line of storms will be coming through Wilkes this evening as folks are getting off of work. 5:30-6:30 pm timeframe. We're under a tornado watch. So, know where you're gonna go in threatening weather. Have a plan.
I meant it! Sometimes people like me (weather nuts) can be a bit overly dramatic about the weather. I admit it! 🙂 But, I was concerned. Real concerned! Then at about 4:45, I pulled the radar back up at my desk and I saw what was coming through Hickory. I saw the hook-echo in the signature of the line headed our way. That's when I left the church and headed home. I knew my daughter Katy was going to head to dance class in N. Wilkesboro at Tonya's Academy of Dance. I thought, "Surely, she won't go." After all, I had been texting my family since 3:30 telling them to "keep an eye to the sky." My daughter, Kandace was at work at Cook's Sporting Goods, but would soon be leaving to go to Tonya's to teach dance.
Here were both of my daughters and my two grand daughters exposed to this line of storms. But, surely Katy wouldn't be going! Surely! Nope! I pulled it right at 5:03 pm and sure enough less than a couple of minutes later, there she went down the driveway. What!!! What in the world is she doing!!!
Well, Katy teaches piano on Monday afternoons and Pam goes to watch the girls while she teaches. The dance class at Tonya's is at 5:30 pm and we live about 20 minutes away, so Katy has to high-tail it down there to make it before the class starts. She was so busy teaching her piano class and Pam was so busy taking care of Charlotte and Evelyn, well…why pay attention to the "wolf-crying meteorologist want-to-be" like me??? Right??? After all, it seems (to them and perhaps many others) that I'm always saying, "The weather is going to get rough!" Yes, I'm paranoid! I admit it!
When I was about 4 or 5 years old I remember living in a mobile home with my family and it was in the afternoon and there was a tornado warning and remember going to my grandparents home (right beside of our trailer) to seek shelter in their basement (me, my mom and my sister). I still remember that vividly!
So, yes…I am constantly texting my family about weather fronts. But, this time was different and I tried to express that. But, they were all so busy! Kandace had to get from Cook's to the dance studio ASAP too and so…there you have it… A perfect storm of: "EVERYBODY IS OUT IN THIS MESS!!" Yikes!
No sooner do I get in the door at my house than Pam pulls in from watching the grand babies and I said, "Why in the blue blazes is Katy going to dance! Is she out of her mind!" I pointed to the television and there was the blue screen that said: Wilkes County, NC TORNADO WARNING…a tornado that is radar-indicated is moving from Boomer toward Wilkesboro and N. Wilkesboro. Van Denton was on FOX-8 and Lanie Pope on WXII-12 saying, "Take cover Wilkes County residents: NOW!"
I told Pam, "Call Katy and tell her to turn around!" Pam tried and couldn't get through. By now it was on!!! The cell lines were jammed! Everybody and their brother was calling and texting and the systems were overloaded. But, then Katy gets through to Pam. Pam said, "It's Katy!" Hallelujah! "Tell her to turn around!" Pam told her. "What?" "Oh no!" Pam was saying with fear in her voice. I said, "What's going on!" She said, "She's trying to find a place to take cover in Millers Creek. She said it's like the wind is picking up the van and the rain is white blowing sideways. "I can't see anything!" Katy said. It was panic mode.
At that moment, my cell phone is buzzing… "Kandace Brown" I swiped it! "Daddy, what's happening!" I said, "Kandace you've got to get out of the building NOW!" (You see, Tonya's classes meet in a second story building that's old…real old and I knew that building could never stand a direct hit.) At this point I had my computer pulled up and I could see the swirl on the radar coming just to the east of them…but, it was going to be close.)
"Kandace, get those kids out of that building and go to the ground floor of the Wilkes County Library next door. Now baby! Go!" She said, "Are you sure Daddy, I'm scared!" I said, "I'm sure baby…go." Kandace is brave and strong but she was frightened and I knew Tonya was too. I could hear here in the background. They had about 40 little girls to take care of. Ultimately, they were able to get them to safety in the lower level of their building because the shop owner below let them in.
Meanwhile, back to Millers Creek and Katy and my granddaughters. They had gotten out of their van at a produce stand across from Millers Creek Baptist Church. They were holed up in the back of it…drenched, soaking wet. What a scene! Chaos unleashed on Wilkes County. It was amazing! Thankfully, everyone was safe. Oh…and I shouldn't neglect to tell you that Josh, my son-in-law was driving in the mess too! He goes from Wilkes Communications in Wilkesboro over to N. Wilkesboro to the dance studio to meet Katy and the girls on Monday evenings. He was driving around trying to avoid the flying debris that was blowing around right behind Tonya's studio. What an amazing scene! This is the Jewelry store just down the street…
The damage around the county was amazing…
Thankfully no one was killed in the storm. Yet, tragically, a lineman (a bi-vocational pastor) was killed. Here's the news report:
The victim was identified as Brian Keith Wilmoth, 31, of Wilkes County. The sheriff's office said Wilmoth, an employee of Asplundh Tree Expert Company, was operating a chainsaw and cutting a tree that had fallen on a power line. As Wilmoth cut the tree in two, the power lines sprang upward, throwing the tree back on to Wilmoth. Here's the full story: http://www.wxii12.com/article/wilkes-county-man-killed-after-cutting-down-tree-in-county-hit-by-storm/13090052
Please join me in praying for this precious family…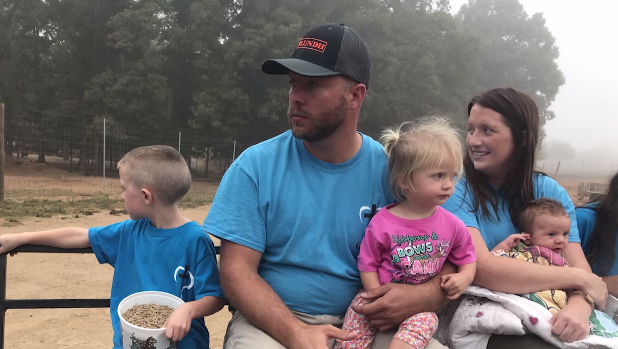 My heart breaks for that sweet lady, his wife. I saw an interview on TV where she said, "The Lord will take care of us and I know my husband is with Him now and it's going to be okay." I have tears in my eyes typing those words. What a Christian lady! I just sent the family some money. They'll need it. You can do so here: https://www.gofundme.com/support-for-karla-wilmoth/thankyou?d=nsbldhX1mz6AifZ87plLIYyVTedZ9UyUeKbZk07eWqY%3D#
I'm so blessed that my family is safe! I know many suffered without power for several days. We were without power for a day. But, even in that…we see the Lord is good.
This week's Two-Minute Tuesday was about that, "When Everything Stops." http://subspla.sh/w4j8fkp
Next week, Pastor Dale, Kandace, Clara and I head to the Philippines to share the Gospel. We'll be speaking to as many as 5,000 people while we're gone. That includes government workers and public school children. Pray that people will be touched and lives saved for Jesus Christ. Would you pray for us, please? We'll be leaving after church on Wed. night and return about 2 am on Saturday morning, Nov. 11th. Thank you!
Kevin